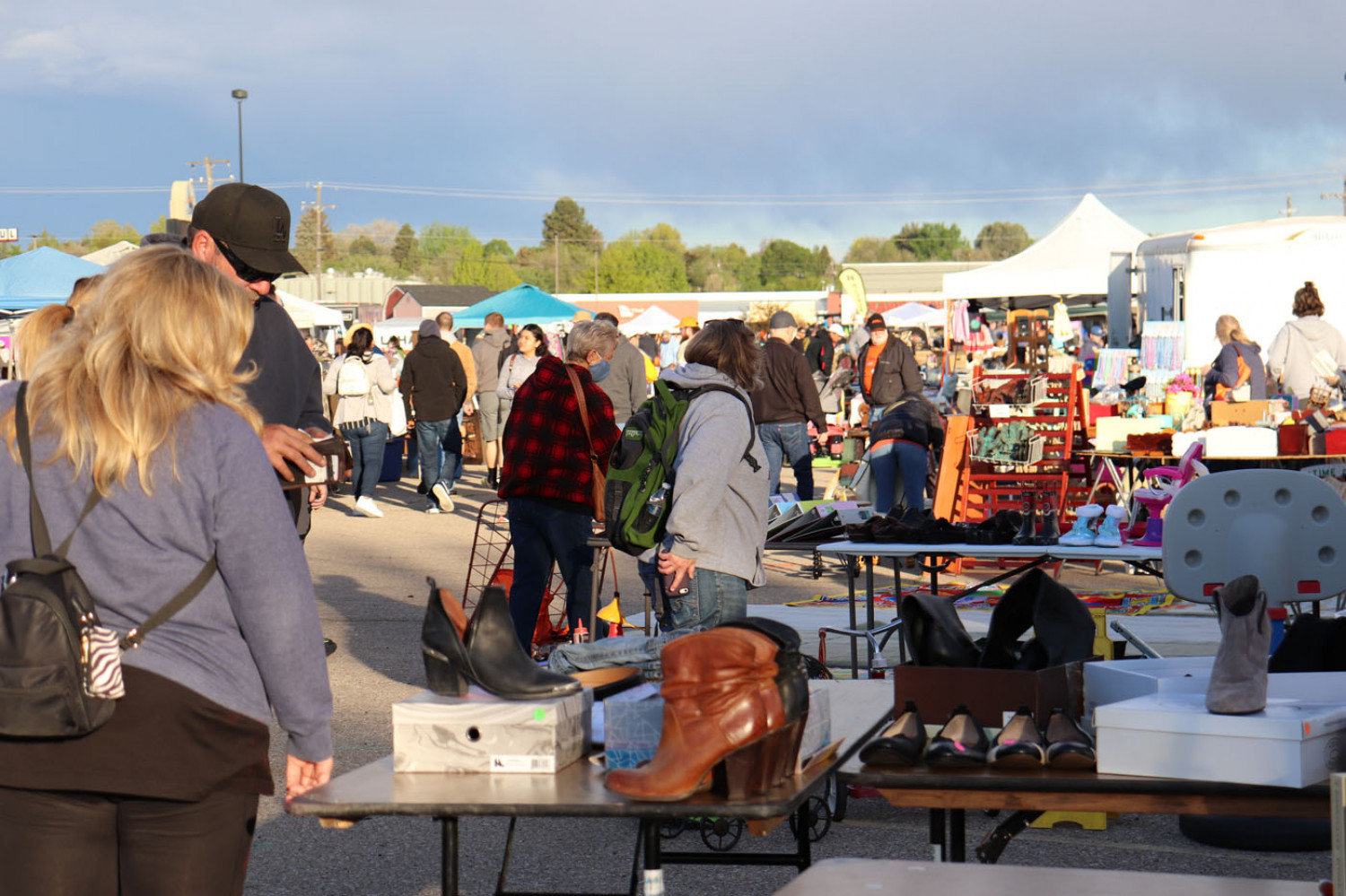 Where is Idaho's Largest Garage Sale?
The Expo Idaho - West Parking Lot - Outside - at 5610 Glenwood St Garden City, ID 83714.
When is setup for Idaho's Largest Garage Sale?
Setup takes place from 10 a.m. to 6 p.m. on Friday, May 19th. All setup must be completed on Friday. No exceptions. There will be security overnight to ensure nothing gets moved or stolen. If you're worried about inclement weather, please plan ahead by bringing a tarp to keep your possessions dry.
When is Idaho's Largest Garage Sale?
7 a.m. to 5 p.m. on Saturday, May 20th, 2023.
Idaho's Largest Garage sale will go on rain or shine.
May I bring my pet with me to the Garage Sale?
No, there is a strict no pets policy at Expo Idaho. You will not be allowed to enter with any dogs or pets of any kind.
$42 if your booth is non-commercial | $275 if you are commercial.
What is the difference between commercial and non-commercial?
Non-commercial is selling common household items that you no longer want.
Commercial is new items, crafts, business displays, etc.
The spaces are 20' X 20'. This is the size of two parking spaces.
Can I rent more than one space?
Yes. Spaces rented at the same time by the same person will be placed side by side. If you need places next to each other that were not rented at the same time, please let us know. We will make every effort to accommodate your request.
Will there be a limit to the number of Commercial Vendors for businesses?
Yes. Certain commercial categories will be limited to a maximum number of businesses such as Scentsy & United Health.
What if I can't set up the night before?
You must set up the night before if you want to drive your vehicle up to your booth to unload. There is no vehicle access to the sale area the day of the event.
Is there security overnight?
Individuals may not sell or distribute food at their booths or hand out samples. You may only sell food items if you have registered as an official food vendor.
Can I bring my own food to eat during the day?
You may bring in small snacks and non-alcoholic beverages (no glass bottles) for your personal consumption during the event. Food vendors will also be available.
Do you provide tables and canopies, etc?
No, we just provide the space for you to set up.
Do you provide electricity?
No, but there will be power stations available to test items requiring electricity.
What if I don't want to cart my un-sold stuff back home after the event?
A local company/charity will be on-site collecting donations
How many passes does each vendor get?
You will receive four (4) passes per booth space rented.
What restrictions do you have?
We have a restriction on food sales due to our agreement with Expo Idaho. Any other restrictions are based on laws, requirements placed on vendors by the companies they represent, or if something is not appropriate for a family event. You can set up your booth as you would like, keeping in mind that this is a family event and you must stay in your space (s).
How long can I leave my stuff there after the sale is over? Can I get it later?
No, all items must be removed immediately after the sale. Please plan on having someone available to watch your items while you go get your vehicle, etc. All items left will be donated and we don't want to inadvertently assume you are donating anything.
If I change my mind, can I get a refund?
No, we are not able to give refunds.
How soon do I need to get my reservation in?
Booths are first come, first serve so as soon as you can reserve, you should.
What if I purchase a big item?
Staff will be on-site with golf carts to assist you with large items to your car. Please note the number of the booth and the letter of the row you purchased your item from so we can more quickly assist you.
What is available for purchase?
Businesses and individuals from the community will be at the event.